Posted by Transylvania County on July 22, 2019

Taking a village to raise a child is nothing compared to the efforts of a whole county. The unique community collaborative working to make the lives of children better in Transylvania County, GET SET Transylvania was recognized recently at the national level for Best in Show for programs serving children and youth.
Transylvania County Commissioner Page Lemel and County Manager Jaime Laughter joined over 3,000 county leaders from across the country at the 84th National Association of Counties (NACo) Annual Conference and Exposition, held July 12-15 in Clark County, Nevada. NACo is a national advocacy and leadership organization representing the common interests of 3,069 counties, boroughs, parishes throughout the country.
"Being asked to present to my peer county leaders from across the country about how we are approaching our community work to improve early childhood through Get Set Transylvania was a true honor. The work of the Get Set partners has earned the award we received and is quickly becoming a national model on how to make a meaningful impact through collaborative thinking. I am proud to have been a part of this effort and for the wisdom of our partners to approach community change in a profoundly different way," Page Lemel, County Commissioner said.
Several North Carolina counties were recognized for outstanding programs and initiatives and Transylvania County was selected for a Best in Category Award for Children and Youth Programs for its Get Set Transylvania Early Childhood Collective. Get Set Transylvania prioritizes and aligns the work of more than 22 local entities to improve early childhood outcomes and includes a partnership with Sesame Street in Communities to support parents, caregivers and community providers in their efforts to give all children a strong, healthy start.
Commissioner Lemel was invited to present a session alongside Sesame Street Workshop Vice President, Jeanette Betancourt. Get Set Transylvania was named a Sesame Street in Communities partner in 2018- the fourth community nationwide to receive the distinction. Sesame Street will return to Transylvania County at Halloweenfest in October 2019 to celebrate the first year of partnership with the help of Cookie Monster.
North Carolina represented well at the national event. Kay Cashion, Guilford County Commissioner was recognized for her strong support for the arts throughout her career. Sig Hutchinson, Wake County Commissioner participated in a panel focused on healthy lifestyles to discuss the health benefits of providing recreational areas especially in low income areas.
During the North Carolina caucus, Tracey Johnson, Washington County Commissioner and Ray Jeffers, Person County Commissioner were reelected to serve on the NACo Board of Directors.
Commissioner Jeffers also ran for NACo 2nd Vice President. While he gained widespread support from across the country, Commissioner Larry Johnson, from DeKalb County, Georgia was ultimately elected to the position.
The North Carolina delegation also participated in the NACo Business Meeting, where Douglas County, Nebraska Commissioner Mary Ann Borgeson was sworn in as NACo's 2019-2020 President. She announced the following NACo leadership appointments for North Carolina:
• Kitty Barnes, Catawba County Commissioner (Vice Chair, Environment, Energy and Land Use Steering Committee)
• Kay Cashion, Guilford County Commissioner (Vice Chair, Justice and Public Safety Steering Committee; Vice Chair, Art and Culture Commission; At-Large Board Appointment)
• Chris Coudriet, New Hanover County Manager (Vice Chair, Resilient Counties Committee)
• George Dunlap, Mecklenburg County Commissioner (Vice Chair, Large Urban County Caucus)
• Viola Harris, Edgecombe County Commissioner (Vice Chair-South, Membership Steering Committee)
• Sig Hutchinson, Wake County Commissioner (Vice Chair, Healthy Counties Initiative)
• Renee Price, Orange County Commissioner (Vice Chair, Arts and Culture Commission)
• Gloria Whisenhunt, Forsyth County Commissioner (Vice Chair, Health Steering Committee)
Over 3,000 county leaders convened to attend workshops, education sessions and networking to share best practices and discuss common challenges. Attendees also participated in steering committee meetings and official business session meetings to shape federal priorities for the organization and elect its leaders. Participants explored various topics including affordable housing, technology, reducing the number of mentally ill individuals in jails, the opioid epidemic, disaster preparedness and recovery and other issues important to counties across the country.
Notable speakers included Acting Administrator and General Counsel of the U.S. Small Business Administration Chris Pilkerton, Senior Vice President of U.S. Social Impact at Sesame Workshop Dr. Jeanette Betancourt and CEO of the Purpose Institute Roy Spence.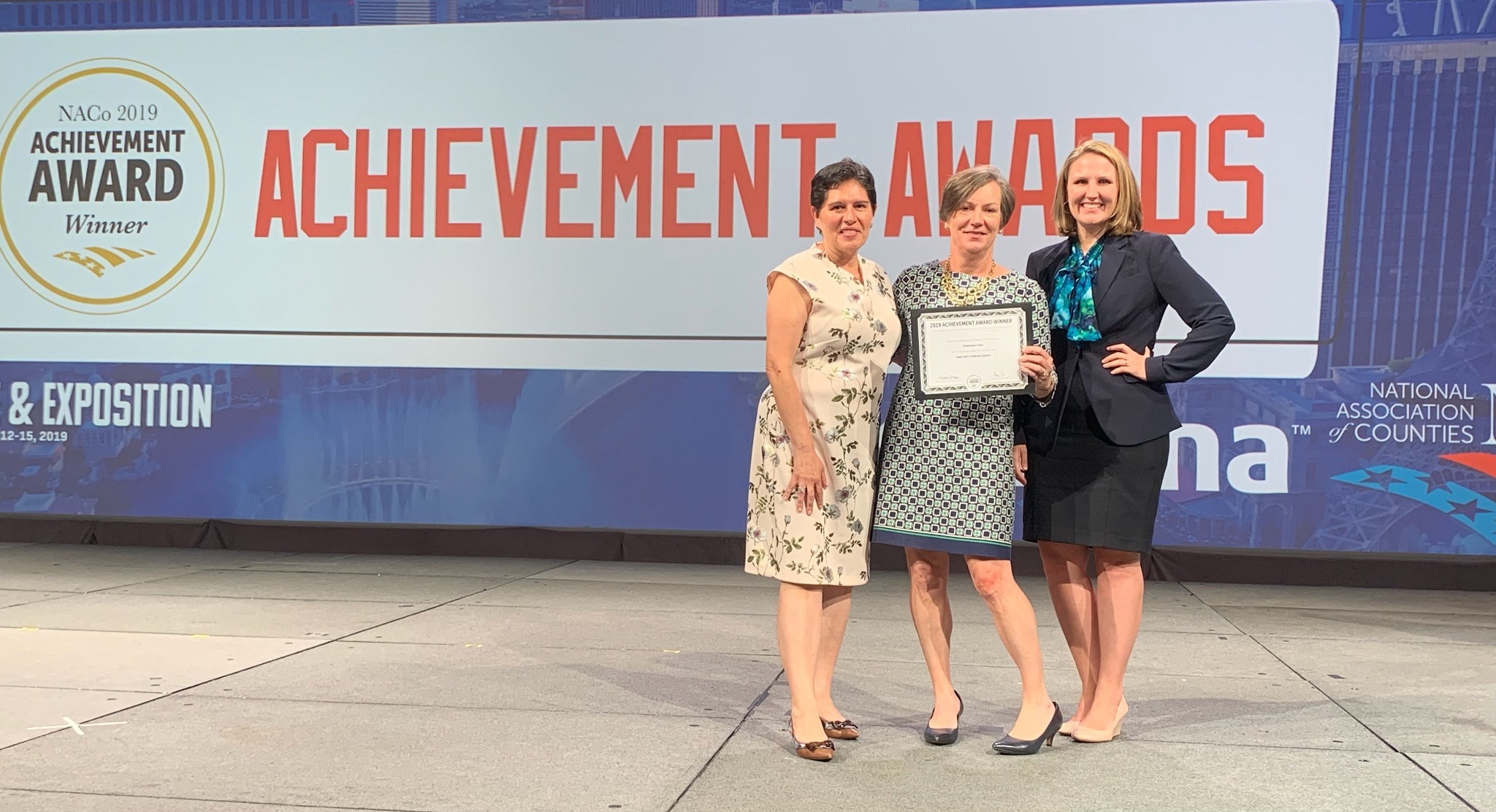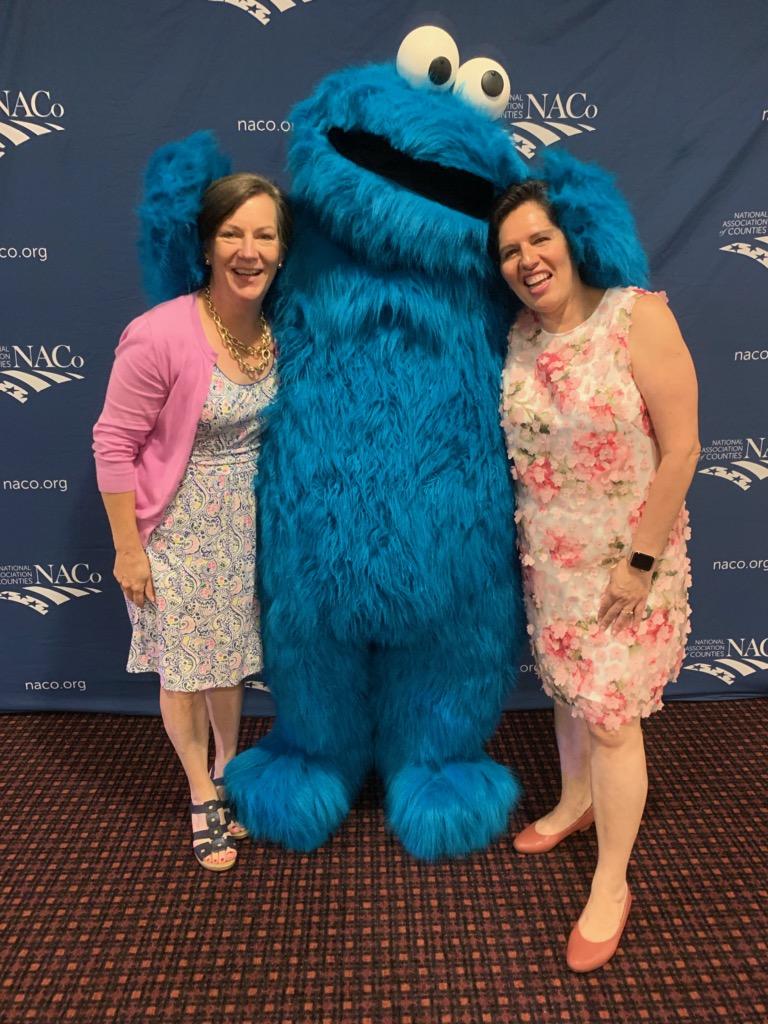 Editors: Print quality photos may be downloaded for use at: https://ncacc.smugmug.com/NC-at-2019-NACo-Annual-Conference/ Photos should be credited as follows: Photo courtesy Chris Baucom/NCACC.
The North Carolina Association of County Commissioners (NCACC) is the official voice of all 100 counties on issues being considered by the General Assembly, Congress and federal and state agencies. The Association provides expertise to counties in the areas of advocacy, research, risk management and education and leadership training.
The National Association of Counties (NACo) is the only national organization that represents county governments in the United States. Founded in 1935, NACo assists America's 3,069 counties in pursuing excellence in public service to produce healthy, vibrant, safe and resilient counties. NACo promotes sound public policies, fosters county solutions and innovation, promotes intergovernmental and public-private collaboration and provides value-added services to save counties and taxpayers money.