In addition to being a great place to find a good book, your public library offers a wide array of programs and services for children, teens and adults. Twenty-seven well-equipped computers with high-speed Internet access and Microsoft Office software are available for public use and eight additional computers with educational software are available exclusively for children.
Wi-fi access is available for those who bring their own devices. Tech help is always available at our Reference Desk. Other services include the Rowell Bosse Local History Room and Second Story Books, the Friends of the Library bookstore, on the second floor of the library. The Library website provides access to a rich collection of electronic resources from online courses to ebooks. Click here to be connected to a world of learning, exploration and fun at your Transylvania County Library.
History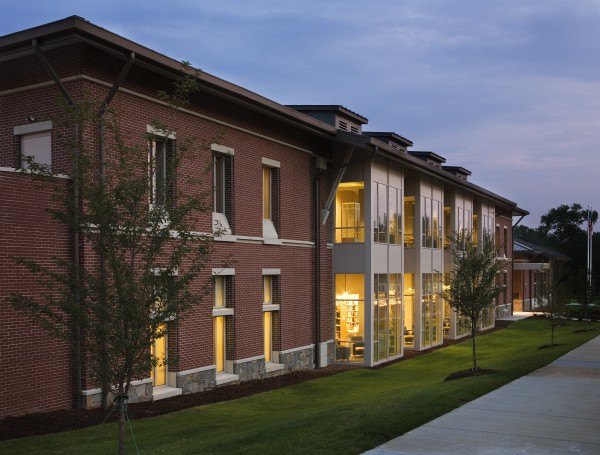 The Transylvania County Library opened in its present location at 212 South Gaston Street on May 15, 2006.  The new library has 35,000 square feet of space and a variety of features including a community meeting room; local history room;  public computing and wifi; a teen area; popular materials and a spacious children's area.
The Transylvania County Library was founded in 1912 by the local chapter of the United Daughters of the Confederacy. The library's collection began with the gift of 300 books willed to the city of Brevard by W. Lowndes Hume, the son of Robert W. Hume, a Confederate veteran and prominent Charlestonian.
The original library building was purchased by the U.D.C. at public auction and had been constructed as the club house of a failed development called the Appalachian Club Estates. The small green frame structure stood immediately east of the Courthouse, on property owned by the County.
In 1956, the brick building beside the Courthouse which now houses the County's Administrative Offices, was erected as a new library and the little green "cottage" was demolished.
The Transylvania County Library moved to the corner of South Broad and Morgan streets in 1974. Constructed in 1940, and dedicated as a United States Post Office in 1941, this building is a typical example of WPA civic architecture. The building's heritage is also reflected in the Pietro Lazzari mural "Good News" which depicts a rural mountain scene and the arrival of the postman. Substantial renovation took place to make the building ready for library service, including the addition of the north end. The Children's Department and the Sarah Keels Tilson Historical Room were dedicated in 1986.