Posted by Transylvania County on October 18, 2018
Sesame Street in Communities announces partnership with Transylvania County Early Childhood Initiative to provide resources and services to parents and young children.
Sesame Workshop, the non-profit educational organization behind Sesame Street, has announced that Transylvania County, NC, is the next community selected for Sesame Street in Communities (SSIC), a nationwide initiative to support parents, caregivers, and community providers in their efforts to give all children, especially the most vulnerable, a strong and healthy start. Sesame Street's Count von Count and Abby Cadabby Walkarounds will celebrate the announcement at HalloweenFest in downtown Brevard on Saturday, October 27.
Funded by the Robert Wood Johnson Foundation (RWJF), the nation's largest philanthropy dedicated solely to health, and the Joan Ganz Cooney Fund for Vulnerable Children, Sesame Street in Communities is partnering with the Transylvania County Early Childhood Initiative (ECI) to support local families with young children under age 5. Sesame Street in Communities will train parents and providers participating in the Early Childhood Initiative on topics including school readiness and traumatic experiences. Sesame Street in Communities resources will be available through participating Transylvania County Early Childhood Initiative partners as part of the upcoming partnership. These resources will also be integrated into the ECI providers' services, including those that seek to reach underserved populations of family and children throughout the county. 
Established in 2015, the ECI includes local officials and community leaders who focus and align efforts surrounding the wellbeing of its youngest citizens. Through this cohesive effort, the ECI is enhancing the capabilities of caregivers and strengthening the relationships among Transylvania County organizations and programs essential to children's lifelong learning, health and behavior.
"Transylvania County is a unique and special place. We're immensely proud that Sesame Street in Communities has chosen us as its next community," said Jaime Laughter, Transylvania County Manager. "There is no better investment than the health and well-being of our children.  This partnership recognizes the incredible work of our ECI and the commitment of our entire community to make Transylvania County a stronger, healthier place to live for everyone."
Program participants will be able to utilize the Sesame Street in Communities resources through in-person events and training, virtual courses, webinars, and videos to help children and families navigate challenges large and small. Using the power of the beloved Muppets of Sesame Street, the resources are designed to build coping skills and foster nurturing connections between children and the caring adults in their lives. All of these resources are available for free in English and Spanish at sesamestreetincommunities.org and through ECI website that will be launching on October 27th. 
"We are thrilled to launch Sesame Street in Communities in Transylvania County, a community dedicated to improving the lives of all children, particularly those most vulnerable," said Dr. Jeanette Betancourt, Senior Vice President of U.S. Social Impact, Sesame Workshop. "By working hand in hand with local partners across Transylvania County, together we can help build the circle of care that every child needs to thrive."
"Transylvania County's commitment to young children and their families is setting an example for other communities in North Carolina and across the country," said Page Lemel, Vice Chair, Transylvania County Board of Commissioners. "As only the fourth community nationwide selected by Sesame Street in Communities, we hope to inspire other rural communities to create similar programs that help all children have the healthy start they deserve."
HalloweenFest: Count von Count is Coming to Transylvania County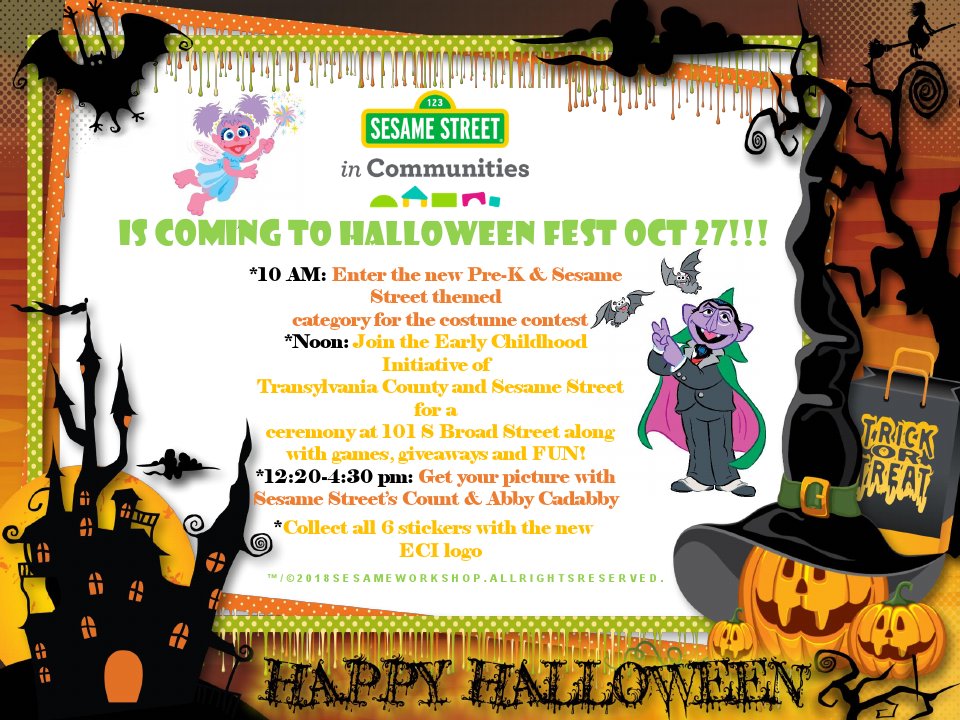 On Saturday, October 27 from 10:00 AM - 5:00 PM, Transylvania County ECI organizations and Sesame Street in Communities will make a special announcement and celebrate the launch of its partnership at HalloweenFest in downtown Brevard. Broad Street, between Morgan and Jordan Streets, will be dedicated to fun games, and informative resources will be provided to parents of young children. 
Sesame Street's Walkarounds, Count von Count and Abby Cadabby, will join the celebration from 12:30 PM to 4:30 PM providing hugs and pictures for families in front of the County Administration Building at 101 South Broad Street in downtown Brevard. Additional events include a costume parade and contest with two new categories, one for ages 0-5 and another for all ages in a Sesame Street-themed category, with check-in from 10 AM to 11AM followed by trick-or-treating. 
ABOUT EARLY CHILDHOOD INITIATIVE OF TRANSYLVANIA COUNTY 
Transylvania County Early Childhood Initiaitive (ECI) is focused on the issues facing children aged 0-5 in Transylvania County. Started in 2015, the ECI released a State of the Young Child in Transylvania County report that highlighted the unique obstacles facing its youngest citizens and why investing in young children can have positive short- and long-term economic development impacts. The initiative focuses on providing resources and tools to aid parents and caregivers that work with small children every day, collaborate to enhance services to families, and advocate for public policy improvements.
ABOUT SESAME WORKSHOP
Sesame Workshop is the nonprofit educational organization behind Sesame Street, the pioneering television show that has been reaching and teaching children since 1969. Today, Sesame Workshop is an innovative force for change, with a mission to help kids everywhere grow smarter, stronger, and kinder. We're active in more than 150 countries, serving vulnerable children through a wide range of media, formal education, and philanthropically-funded social impact programs, each grounded in rigorous research and tailored to the needs and cultures of the communities we serve. For more information, please visit www.sesameworkshop.org.
ABOUT THE ROBERT WOOD JOHNSON FOUNDATION
For more than 45 years the Robert Wood Johnson Foundation has worked to improve health and health care. We are working alongside others to build a national Culture of Health that provides everyone in America a fair and just opportunity for health and well-being. For more information, visit www.rwjf.org. Follow the Foundation on Twitter at www.rwjf.org/twitter or on Facebook at www.rwjf.org/facebook.
ABOUT THE JOAN GANZ COONEY FUND FOR VULNERABLE CHILDREN
The Joan Ganz Cooney Fund for Vulnerable Children was established in 2018 to support content development, training for service providers, research, and implementation for Sesame Street in Communities. Made possible by a generous gift from Joan Ganz Cooney's late husband Peter G. Peterson, the fund honors Ms. Cooney's pioneering work as Sesame Street's co-founder by furthering Sesame Workshop's commitment to helping children overcome challenges big and small.
To download Sesame Street in Communities images, click here.