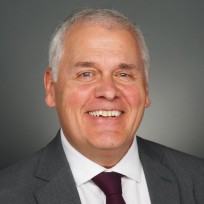 BIOGRAPHY
Mike Hawkins was elected in November 2008, re-elected in 2012, and re-elected again in 2016. He has served as chairman from 2010-2016 and from 2018-present.
He is a graduate of Brevard High School and has both Bachelor of Arts and Masters in Business Administration degrees from the University of North Carolina at Chapel Hill, and is president of Pisgah Enterprises Inc., which owns and operates residential and commercial real estate properties, and his family's Pisgah Fish Camp restaurant in Pisgah Forest.  He lives in Brevard with his wife, Claudia, who is a certified public accountant. Mike and Claudia have one daughter, Allison, who is an attorney with Covington & Burling LLP in Washington, D.C.
In 2019 Mike was named North Carolina Rural Advocate of the Year by the North Carolina Rural Center, in recognition of his statewide influence as a thought and action leader for rural issues in North Carolina. In 2018 he was named recipient of Land of Sky's Robert B. Shepard Award, for exceptional regional leadership on behalf of the citizens of Western North Carolina, and in 2011 Mike received the Duke Energy Citizenship Award, for civic service to Transylvania County.
He is currently a Board Director and member of the Executive Board of the Economic Development Partnership of North Carolina, which is the lead agency for North Carolina's various economic development programs. Within EDPNC he is Chairman of the EDPNC Rural Work Group, which focuses specifically on the issues of rural economic development in North Carolina. He is also a Board Director of the North Carolina Travel and Tourism Board, and serves of the NCTTB marketing committee.  
Mike is also an Executive Board member of the Land of Sky Regional Council of Governments, based in Asheville, and is or has been active in numerous local civic organizations, including board memberships in the Transylvania County Sesquicentennial (board chair), Brevard-Transylvania Chamber of Commerce (board chair), Transylvania County Tourism Development Authority (board chair), Smart Start of Transylvania County (board chair), Transylvania Partnership (board chair), Pisgah Forest Gateway Association (board chair), Pisgah Forest Rotary (president), Blue Ridge Community College, Transylvania Library Trustees, Transylvania Library Foundation, WNC Regional Economic Development Commission, Transylvania Endowment, and Trend Mental Health Agency.  He coached soccer at Brevard High School for six years, and also served four years as a church deacon.
Q & A
Q: What makes Transylvania County so special to you? 
Transylvania has a great combination of friendly and interesting citizens, environmental treasures, outdoor recreation, and cultural and educational strengths. In a single day I can hike Looking Glass Rock, cool off at Sliding Rock, eat dinner with friends at one of our great restaurants, then see performers like Yo Yo Ma or Steep Canyon Rangers or Joshua Bell - and never go more than 10 miles from my house. That never gets old.
Q: In which ways do you hope to improve Transylvania County? 
Every elected official wants to make Transylvania a better place for our citizens to live and work; that's the reason we do this. That means different things for different people. For me in my final term as a commissioner, it means quality economic growth while maintaining our county's special sense of place. We have significant utility and amenity infrastructure needs that I would like to see addressed, and that is my focus for the remainder of my time as commissioner.
Q: Do you have any favorite things that you like to do in Transylvania County? 
Well, among other things: kicking soccer balls at the Morris Road field, every-Sunday-night Mexican dinners with our best friends, hiking Moore Cove Falls in the late afternoon, being at a Music Center concert on a hot July evening, shooting hoops at Silvermont, trebuchet pumpkin chunking at Halloween, watching Brevard High and Brevard College soccer, sitting in front of our house and watching the Christmas Parade go by, walking the empty downtown streets during snowstorms ..... hmm, haven't included commissioner meetings in this, have I?