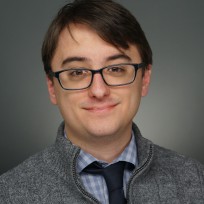 BIOGRAPHY
Jonathan Griffin is Transylvania County's first North Carolina Association of County Commissioners (NCACC) County Management Fellow. The NCACC is committed to helping develop the next generation of career county management professionals and established this program to plrace recent graduates who have an interest in North Carolina local government into a full-time two year salaried position so that they can gain experience working first hand in leadership at the local government level.
He began this new role in September 2016. Prior to beginning the fellowship, he previously served in several roles in the Office of Financial Aid at the University of North Carolina Asheville. He is a recent graduate of the UNC School of Government's Master of Public Administration program. Previously, he earned a baccalaureate degree from the University of North Carolina Asheville in Economics and Classical Studies. He lives in Arden, NC with his fiancé.
Q & A
Q: What are your job duties for Transylvania County? 
I directly assist the county manager in providing complex analysis and planning to support the overarching functions of Transylvania County. I work closely with the senior leadership of appointed administrators and elected officials to help Transylvania County meet its commitments to its citizens. The county manager provides information and options to the Board of Commissioners to help guide policy making, I help locate and analyze that information and those options.
Q: What makes Transylvania County so special to you? 
I first moved to Western North Carolina over ten years ago and visiting Transylvania County was one of the first things I did when I arrived. Since my freshman year of college, regular visits to the immense natural wonders of Transylvania County and its communities have been a big part of my life. Given its rich history and bright future, I was very excited when I was offered the opportunity to work for this community.
Q: In which ways do you hope to improve Transylvania County? 
A career in government was a natural fit for me because I find myself most drawn to service. My sole hope from this experience is that at the end I can point to more than just a few things that I had a role in that have grown Transylvania County economically or culturally. If I can say I made Transylvania County better able to meet the challenges of its future, then I can say that I have done my job well.
Q: Do you have any favorite things that you like to do in Transylvania County? 
Since beginning my work in the Administration building, I have become very enamored of the food scene here in the City of Brevard– you'll often find me in the afternoons taking my lunch break at any one of the many great restaurants there are here in downtown Brevard.