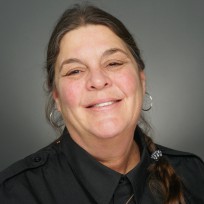 BIOGRAPHY
Elma Rae Greene was appointed in 2016 to direct the Animal Services Department and manage the animal shelter.
Since 1989, Elma Rae has served several local governments in North Carolina overseeing Animal Services agencies along with their animal shelters. Elma Rae also authors the North Carolina Laws for Animal Control legal manual, in print since 1995 which is used in all counties in the state.
Elma Rae earned an Associate's Degree in Business Administration at Alamance Community College and has served as an adjunct professor in Criminal Justice and Animal Care curriculums.  She has raised 2 children and now resides in Brevard.
Q & A
Q: What are your job duties for Transylvania County? 
As Animal Services Director for Transylvania County, it is my responsibility to ensure the safety of our citizens from aggressive animals and animals from illegal treatment. Animal Services is a small department that strives to respond a diverse range of animal and public needs.
Q: What makes Transylvania County so special to you? 
Nature lovers are drawn to Transylvania County to enjoy abundant natural beauty, friendly culture and deep respect for the environment and other species.
Q: In which ways do you hope to improve Transylvania County? 
Transylvania County has great potential in its wealth of educated, friendly and compassionate citizens. I am working to collectively bring together the organizations and people who deeply care about animals and to provide the services this community deserves. Animals will also be provided the protections Transylvania County citizens have enacted.
Q: Do you have any favorite things that you like to do in Transylvania County? 
My favorite activity in Transylvania County is absorbing the view of the beautiful vistas all around and bird watching.