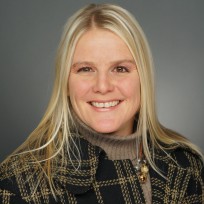 BIOGRAPHY
Carleen Dixon was born and raised in Brevard, NC and graduated from Colorado State with a B.S. in Natural Resources Recreation and Tourism. She has worked for The City of Redmond, WA, The City of Lynchburg, VA and The City of Pasco, WA all in various roles for Parks & Recreation before returning back to Transylvania County.
Q & A
Q: What are your job duties for Transylvania County? 
Carleen is responsible for the overall operations of the department, Park and Recreation Commission, and project planning and development.
Q: What makes Transylvania County so special to you? 
The locale and the people. Transylvania County is a special place blessed with beautiful natural resources and wonderful people.
Q: In which ways do you hope to improve Transylvania County? 
Continue to provide great recreational opportunities and facilities for the citizens of Transylvania County.
Q: Do you have any favorite things that you like to do in Transylvania County? 
Food - Breakfast (Creekside) Hobby – Weight training and just about anything outdoors! Other - Spending time with family, friends and my dog Faith.