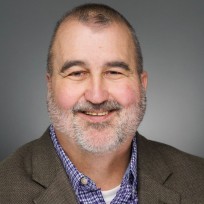 BIOGRAPHY
Mr. Renfroe has worked in the social work field for 35 years between his roles in County and State Government. Most recently, Darrell worked as the Local Support Manager for the NC Department of Health and Human Services. He provided management support, work support strategies and consulting to DSS Directors in 50 North Carolina Western Counties and the Eastern Band of Cherokee Indians. Renfroe holds a Bachelor's Degree in Psychology from Oklahoma Baptist University and a Master's degree in Social Work from the University of North Carolina at Chapel Hill. DSS Board Chair Jim Felty said, "We are very excited to have Darrell as the new Director of Social Services. He has done an excellent job leading the department during the interim period and the DSS Board looks forward to working with him on a long term basis. Darrell has great enthusiasm and work ethic. He will work hard to accomplish the goals established by the DSS Board and the Board of Commissioners and provide service to the community and our citizens."
Renfroe is a resident of Mecklenburg and Transylvania Counties. He and his family have owned a home in Transylvania County for 7 years. "I am thrilled to be able to work in Transylvania County. As the Local Support Manager, Transylvania County was one of my assigned counties, so I had some working knowledge of Transylvania County Government and the Department of Social Services. During my interim assignment, I have seen an outpouring of support and have found an amazing group of employees who are dedicated to serving the needs in our community", said Renfroe. "I look forward to being a part of this agency and working with our citizens."
Q & A
Q: What are your job duties for Transylvania County?
As DSS Director, I oversee the Economic Services programs such as Medicaid, Health Choice, Long Term Care, Food and Nutrition Services, Crisis Intervention, Emergency Assistance, Low Income Energy Assistance and Work First, I also oversee Adult Protective Services, Guardianship, Adult Payee, Child Protective Services, In home Services, Foster Care and Adoption services and Child Support. I am involved in every aspect of the ongoing mission of Transylvania County DSS.
Q: What makes Transylvania County so special to you?
Seven years ago, I purchased a home near Rosman that was in major need of repair. Over the past seven years, I have worked diligently to make this house livable and a place I can call home. My plan has been to retire in Transylvania County but I never thought I would work here. However, I absolutely love this area and I love my house. There is so much to do in Transylvania County and the mountains make me very happy.
Q: In which ways do you hope to improve Transylvania County?
Child Protective Services/Children's Services programs are under a Program Improvement Plan with the State. We have made mistakes in the past and Transylvania County DSS has lost trust by many of our community partners. I hope to see the Children's Services programs continue moving forward and continuing to make progress in order to be able to gain the trust back from these community partners and I feel we are well on our way.
Q: Do you have any favorite things that you like to do in Transylvania County?
I live near the French Broad River and I love that several times each summer, my family and friends and I go tubing and/or kayaking down the river. I love hiking and have hiked to the top of Looking Glass Rock and hiked many other trails in the area. I absolutely love the natural beauty of the area and am so happy to call this county my home.